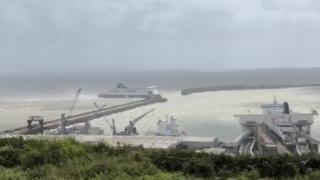 Passengers are stuck on cross-Channel ferries unable to enter the Port of Dover due to high winds.
Crossings between Dover and Calais are delayed by up to five hours due to "highly unusual" winds of 55 knots, P&O Ferries said.
The Port of Dover said it was operating a "one ship in, one ship out" policy due to "strong winds".
Meanwhile, train passengers across the south east are facing disruption caused by gale force winds.
Services are suspended between Lewes and Haywards Heath due to a fallen tree blocking the line, Southern said.
Trains to London from Kent were suspended for about two hours, while a tree was removed from the line in Newington, Southeastern said.
Passengers reported being stuck on a ferries waiting to enter Dover for more than three hours.
A spokesman for P&O Ferries said ferries were waiting for tugs to be taken into the Port of Dover.
"We are doing everything we possibly can to keep our customers comfortable," he said.
A yellow weather warning is in place covering southern and central England as far north as Blackpool, Huddersfield and Grimsby, the Met Office said.
Chief meteorologist Neil Armstrong said summer storms were more likely to cause disruption because "more people are likely to be outdoors, especially by the coast".
"Additionally, with trees in full leaf they are more vulnerable to being brought down by strong winds," he added.
Follow BBC South East on Facebook, on Twitter, and on Instagram
https://www.bbc.co.uk/news/uk-england-kent-49304501