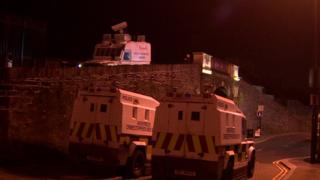 A number of petrol bombs have been thrown towards police during disorder in Londonderry.
Most of the petrol bombs and stones were thrown across the city's historic walls from the Bogside area.
There was a strong police presence on and inside the walls, and officers in riot gear were on standby.
The trouble, which was sporadic, began late on Monday night and continued into the early hours of Tuesday.
BBC News NI reporter Kevin Sharkey was at the scene:
He said: "Dozens of people, including tourists and some residents from the nearby Fountain estate, came onto the walls to watch the disorder down below in the Bogside.
"But with some missiles landing on the walls the police eventually ordered onlookers away from the area."
A makeshift barricade was also erected at the bottom of Fahan Street.
There was also trouble in the area over the weekend.
Police said two petrol bombs were thrown over the walls on Saturday night.
They said 15 to 20 petrol bombs and other missiles were then thrown at officers who responded. A number of pallets were also set on fire.
There were no reports of any injuries.
https://www.bbc.co.uk/news/uk-northern-ireland-49326359